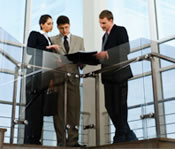 Unique technology solutions for maximizing business success
Superior Service for Sustained Performance
Murex helps businesses measure performance, set and achieve benchmarks, and maintain and surpass their goals using high-powered technology solutions backed by our unique methodology, which is comprised of six distinct stages.
The Murex Technologies Methodology »
Our top-down methodology begins with an assessment of your business needs and doesn't end until your users are completely comfortable and the software solutions we've provided are fully integrated into your existing systems— with as little disruption as possible.
Training Resources »
Our skilled consultants are at the ready with broad software training capabilities and at-your-service staffing solutions.
Staffing Resources »
With our contingent of qualified and experienced IT professionals, Murex Technologies can provide expert staff to augment your existing IT team.