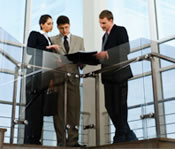 Unique technology solutions for maximizing business success
Technology Solutions
Success is not bred by following trends. Rather, it comes from an understanding of solutions that will truly stand the test of time. Whether those solutions already exist or need to be designed specifically for your business environment, Murex Technologies can deliver against your company's objectives. We answer to you, and your success is testament to our value as a solutions provider. That's why we provide solutions for organizations of every shape and size across a wide range of industries.
Enterprise Performance Management »
We can tailor the SAP BusinessObjects Planning and Consolidation application to your unique business needs.
Enterprise Resource Planning »
With the right system in place, tailored to your operational demands, your organization can reduce overhead, provide better service, and report results faster and more accurately than you ever thought possible.
Custom Applications »
Sometimes existing software simply doesn't suit your needs. We can align our solutions with your unique processes, strategies, and specifications to drive measurable results.